Bahrain Attractions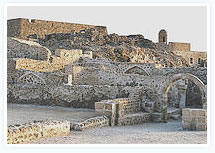 Officially known as the Kingdom of Bahrain, Bahrain is a beautiful island country located near the western shores of Persian Gulf. Bahrain is an archipelago made up of 33 islands among which Bahrain Island is the largest. Bahrain is world renowned for its oil and pearls. Bahrain was awarded the world's fastest growing financial center by the City of London's Global Financial Centres Index. Bahrain houses several international companies and multinational firms working on different industrial projects. Bahrain not only attracts thousands of business travelers but also leisure travelers from all over the world. This wonderful island country is home to many fascinating attractions which can be best explored in a hired car. Whether traveling alone or with family, Bahrain Cars Rental offers perfect car hire solution suiting every budget and requirement.
Bahrain being a popular tourist destination receives around eight million visitors every year. Bahrain is served by the Bahrain International Airport which is situated in Muharraq just east of capital city, Manama. One of the most popular attractions of Bahrain is the Qala'at al-Bahrain (Bahrain Fort) which is located at ten minutes drive from Manama city. Near the fort lies the beautiful museum which displays alluring artifacts from the ancient Dilmun periods to the Islamic era. Tree of Life is a unique attraction of Bahrain. Tree of Life is located in the middle of desert with oil wells and petroleum industry nearby. The travelers can easily drive to this place in their hired cars. Some of the other must visit attractions of Bahrain are Museum of Pearl Diving, the Soukh, Siyadi House and Oil Museum.
Why choose Bahrain Cars Rental?
Bahrain Cars Rental is one of the leading car hiring companies, having several rental locations all over the country. The travelers visiting Bahrain can explore all its fascinating attractions by hiring a car with Bahrain Cars Rental. Bahrain Cars Rental offers high-quality car hire service at the most nominal rates.